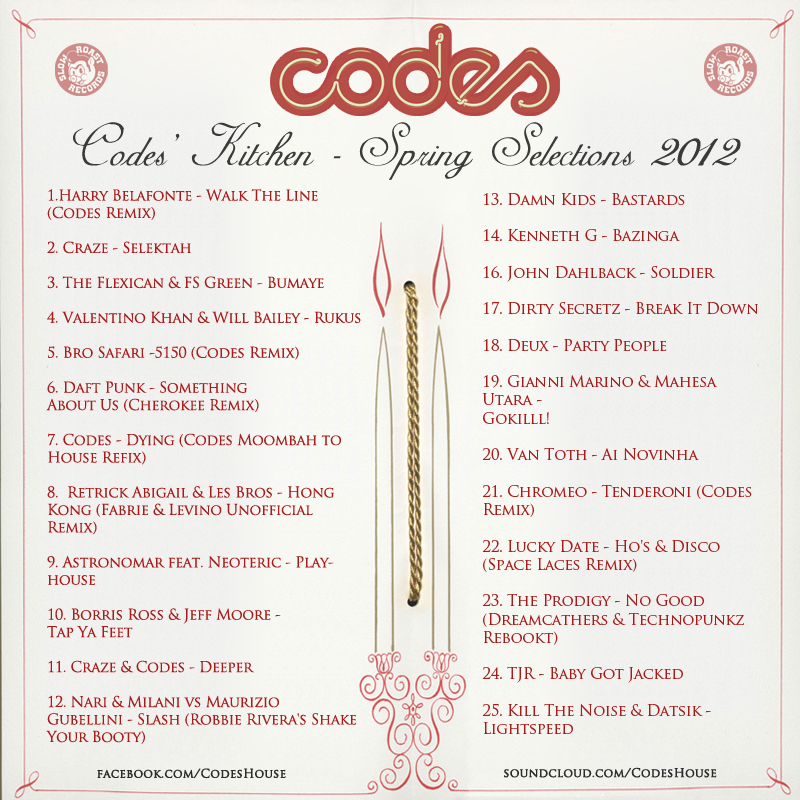 Here's a freshly baked and piping hot moombah/house/WTF mix from Codes' Kitchen. This Brooklyn-dwelling producer and DJ runs the gambit of musical styles. Codes' sound ranges from classic hip-hop to the latest EDM. In his latest well-mixed selection he starts off with a tropical moombah feel with a flurry of scratches and samples lain atop, intermittently transitioning into various jammin' electro house tunes.
I'll be the first to admit that I don't particularly like mixes. It only takes one bad track or transition to ruin a whole set for me. Codes' Kitchen Spring Selections 2012 doesn't have either. I first wrote that last sentence with "luckily" in the beginning, but immediately realized luck has nothing to do with it. Codes is a tremendously skilled DJ mixing an eclectic gauntlet of artists. Without much more rambling from me here is Codes' latest creation:
Support Codes on: Twitter| Facebook | Beatport | SoundCloud

Be sure to catch CODES live at Mad Decent & HARD Presents: Moombahton Massive in Miami next Wednesday March 21st at Grand Central! Ticket info & More Details Here.
By: McIvor
Christmas came early this year! Both Knife Party and Kill the Noise have just dropped massive EPs. Knife Party must be a strong believer in "it's better to give than receive" because they're giving away their EP, 100% No Modern Talking, FO FREE!! All you have to do is sign up for their emailing list on their website. You can always unsubscribe and keep the music. Although most of the tracks on the tracks have already been leaked, there are still a few tracks I haven't heard before.
+
Kill the Noise just released Kill Kill Kill (which should never be abbreviated as "KKK") yesterday on Skrillex's new label OWSLA. This EP has it all: electro house, drumstep, dubstep, … and … ummm .. well maybe not everything but that a pretty damn good deal. Not to mention it has an eargasmic remix from Mixster obsession and musical genius, Dillon Francis, on it. You can purchase this medley of awesome from Beatport.
Kill the Noise – She Likes To Party
Kill the Noise – Kill The Noise (Dillon Francis Remix)
By: MadManMcIvor
In case you haven't heard of Sway, he's a producer and rapper from the UK that has been making quite a splash across the pond. His single Still Speedin' combines masterful production skills with rapid fire lyricism. He's like a British Busta Rhymes with the quickness and precision of his words. Lets get right into it. I'll leave you with original and then show you some of the remixes floating around the interwebs.
The first remix comes to us from another bloody Limey, Doorly. I was lucky enough to catch some his set at Identity Fest in September as he threw down. His take on Still Speedin' is a little more techno than I would have hoped for considering the incredible wobbles I know he can produce. With that being said, It still bangs and is worth a listen.
Sway – Still Speeding' (Doorly Remix)
I'm a huge Kill The Noise fan so when I saw that he had remixed Still Speedin', a song that hits hard on its own, I knew my eardrums were in for a treat. KTN does a fantastic job at retaining elements of the original while still making the song his own by adding his signature sound to the track. Another reason I love this remix is that it has both the drum n' bass and the dubstep sides of KTN, so I don't have to choose. Perfection.
Sway – Still Speeding' (Kill The Noise Remix)
Bonus: here's another one from Irn Mnky. Although I cnt stnd whn ppl spll lk ths, the remix is still pretty solid.
Sway – Still Speedin' [Irn Mnky Remix] by Irn Mnky
By: MadManMcIvor
19 years old and already a top-tier producer, Porter Robinson dropped his latest EP Spitfire yesterday. This is the first album to come off Skrillex's new label OWSLA. To be honest, I just started writing for the Mixster a few weeks ago and am pretty new to writing about music. So being given the task of writing a piece on Spitfire, an EP with at least 5 genres and god only knows how many sub-genres of EDM, was no walk in the park. Porter Robinson is undoubtedly extremely talented and is able to dip his pen into whatever style of  music he wants and make it sound stunning. On top of having unique originals, the record comes with five remixes from the likes of Mikkas, Downlink, Skism, Knife Party, and Kill the Noise.
The namesake of the album, "Spitfire" starts off with an eerie melodic build up. The futuristic sound has a deep industrial bass and a creepy music box riff that you would expect to hear when that doll from SAW pulls up in his miniature bike. Definitely packs a lot of energy. It'll be sure to initiate either absurd crowd bouncing or a round of whiskey shots.
Porter Robinson – Spitefire (Kill the Noise Remix)
Audio clip: Adobe Flash Player (version 9 or above) is required to play this audio clip. Download the latest version here. You also need to have JavaScript enabled in your browser.
This take on the song from Kill the Noise ups the tempo and has that classic breakbeat bass n' drum feeling. Throw some syncopated 808 kick drums and a few Skrillex-esque dubstep growls and you've got yourself an incredible banger.
The original version of "The State" is my least favorite track off the EP. The overly drawn out intro is only made worse by annoying spoken vocals that sound like an audio watermark from a bootleg song that was downloaded from Limewire. It does have some redeeming value in the drop, I must admit. The Skism remix puts a more demonic spin on it. It's easy to picture the DJ dancing around to the spacey and confrontational vibe that this track brings to the table.
Audio clip: Adobe Flash Player (version 9 or above) is required to play this audio clip. Download the latest version here. You also need to have JavaScript enabled in your browser.
Vandalism's ethereal echos, funky techno synth, and catchy vocals will make this a club classic in no time. This track seems to have the most remix potential (remixability?!); I would keep an eye out for some big names trying to put their mark on this track. I would have to say it probably has the highest potential to become a hit.
Can't decide whether you like progressive house or electro house more? Then with "The Seconds", you've found the right track! With his track "The Seconds" Porter starts off with a distinctively progressive house build and about half way through stretches out the shinny synth and drops the song into a completely different being. The fusion of electro and progressive house has never sounded so refreshing.
"100% in The Bitch" produces – more annoying spoken vocals. I feel almost like I'm listening to a pasty faced teenager trash talking into his xbox live head set. Once you get past the intro, comes a  familiar tempo – one that has a Latin moombahton vibe to it. The song has interesting sample layers and is very multifaceted. This track's juxtaposition with the electro house and dubstep songs is proof of Porter's versatility.
Porter Robinson – 100% in the Bitch (Downlink Remix)
Audio clip: Adobe Flash Player (version 9 or above) is required to play this audio clip. Download the latest version here. You also need to have JavaScript enabled in your browser.
Downlink's reflip of "100% in the Bitch" adds club orientated squeals and oscillations to the moombahcore drumline. I personally like this version better than the original. A large part of my preference is due to the fact that Downlink cuts out a large portion of the irritating vocals.
Unison has a festival ready synth punctuated by that unique sound that turns on the electro house light bulb in my head. This is just an all around fun track to jam out to. I wouldn't be surprised to see this as the next anthem to one of the many up coming massives. (Bonus! Mikkas turned the song into a more atmospheric and open version but just as fun and grooveable)
Porter Robinson – Unison (Knife Party Remix)
Audio clip: Adobe Flash Player (version 9 or above) is required to play this audio clip. Download the latest version here. You also need to have JavaScript enabled in your browser.
My favorite track of the whole album. Knife Party turns Unison inside-out and creates a masterpiece. Although I hate to use the word, this is brostep at its finest. Listening to it in my car today gave me goose bumps and an incurable case of unavoidable head bobbing. I can't to hear this on the dance floor; the energy this song has is only matched by that of the father of the label.
Buy the album from Beatport here!
Or stream it from SoundCloud for free here!
By: MadManMcIvor
You've all seen the pictures we've been featuring on the Facebook page, but what goes into making each shot? A picture is worth a thousand words, but there is so much that you miss from a festival or a concert by sitting at your desk and scrolling through a photo album. That's why I'm starting something new on the site. Behind the Lens gives you, our beloved readers, an inside look at what happened before, during, and after a show. From the pre-party to the after-party. From the moment you tilt your head back to take a shot to the hours you spend bent over the porcelain god. The ultimate goal is a more comprehensive festival coverage, with nothing but honest opinions and stories of things that were either hidden from the camera, pictures that were just too crazy to post on Facebook, or snapshots that just need a little further extra explanation.
Sun God Festival at UCSD
A couple weeks ago was my first trip to the Sun God Festival at UCSD. With a sick lineup (HUGE for a college campus in San Diego), some nice cool weather, a press pass in hand, and no shortage of Asian students, I knew it would be a day worth remembering. Damn was that an understatement. Sun God was the BEST festival I've ever been to! I can't thank UCSD's ASCE enough for throwing one of the most massive college events to end the year with a bang. With three huge stages hosting a wide-range of genres and out-of-this-world talent, I will NOT miss this festival next year. The most amazing thing was how massive the festival was, yet how intimate it felt. You'd think that hundreds to thousands of college students from local colleges would just jumble together, but I couldn't stop running into people I knew. And when you're meeting tons of new people your age, but hanging out with your old friends at the same time, you can't not have a good time.
Before the music came on and the dancing began, we had to pre-game of course (we are college students after all). This is where the dirty girl scouts and a gorilla come in. A "Dirty Girl Scout" is a shot; first you get on your knees and have someone fill your mouth with chocolate syrup, then you have someone pour peppermint schnapps in your mouth, then you swish. Voilá, the taste of a Thin Mint! The only hard part is staying sober enough to take pictures…
More "too weird for Facebook" photos and post-mayhem commentary after the jump!
Read the full article…
When college students, excessive alcohol consumption, and great music come together, something wonderful is created. UCSD's annual Sun God Festival was this past week  and it was AMAZING!!!! 9 hours of dancing, running around taking pictures, and trying to find everyone left me exhausted and (not-so) ready for finals, but now that I'm ALMOST out of school, I was finally able to put some of the shots together and throw 'em on Facebook. Fortunately, you guys were so crazy that I had to create 2 whole albums of photos. Voilá. (Album 1) (Album 2)
Kill the Noise dropped one of his new songs, not sure what it's called. If any of you know, be sure to leave a comment and give me a heads up!
By: Spencer Handly
All photography and videos by Spencer Handly
For many of us students in San Diego, that dreaded time of year is coming again. FINALS! But a plethora of tests isn't the only thing to look forward to this week, as UCSD's highly anticipated Sun God Festival (SGF) is just around the corner! With the likes of Wiz Khalifa, Jimmy Eat World, Crystal Castles, JFK of MSTRKRFT, LA Riots, Mike Posner, local DJ NOLD, and many more taking over the campus, this is not a show to miss. Unfortunately, rumor is that guest passes have sold out (and did so FAST), but if you're a student (undergrads get in free) or you had an opportunity to snag a guest pass early on, gates open at 2 PM on FRIDAY THE 13th (yikes) and the festival winds down around midnight. Now, as is the case with any music festival, there are tons of overlap with performing times. Fortunately, the SGF organizers did a great job arranging set times. See the "Set Times" picture below and get started planning out your schedule. Parking wise for commuters, find anything close to RIMAC field (which is where the festival is being held)! Let's get down to business.
THINGS YOU SHOULD BRING
A photo ID
Refillable water containers (a Nalgene), the festival is offering FREE water refills!
Good shoes, you'll be moving your feet, no doubt
A positive attitude!
THINGS YOU CANNOT BRING INSIDE:
Backpacks
Outside food or drink (including Camel Backs)
Video Cameras
Professional Cameras
Chairs
Chains
Stuffed Animals
Rollerskates…
Set Times (click to enlarge)
Festival Map (click to enlarge)
Here are some bonus tunes to jam to, in preparation of this end of the school year celebration!!!
Audio clip: Adobe Flash Player (version 9 or above) is required to play this audio clip. Download the latest version here. You also need to have JavaScript enabled in your browser.
J.O.B. feat. Anjule – Warrior (LA Riots Remix)
Audio clip: Adobe Flash Player (version 9 or above) is required to play this audio clip. Download the latest version here. You also need to have JavaScript enabled in your browser.
Audio clip: Adobe Flash Player (version 9 or above) is required to play this audio clip. Download the latest version here. You also need to have JavaScript enabled in your browser.
By: Spencer Handly